Richard Lampton never believed in fairy tales, so when a stunning stranger at his uncle's funeral warns him of an ancient family curse, he pays no heed—until a very real wyrm attempts to destroy him.
Now, with the help of a homeless runaway, a fledgling jackdaw, and a key none but he can use, Richard must find the courage to meet his death or his destiny as he plunges headlong Into the Weirding.
COMING AUGUST 29th!
WORLD BLOG TOUR AUG 29th – SEP 5th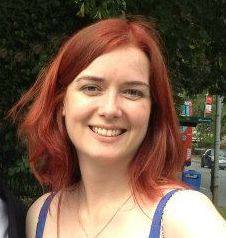 Born and raised in the wilds of Northumbria, AJ Campbell was brought up on a diet of stories and local folklore, of which the Legend of the Lampton Worm was a perennial favourite. She eventually left her hometown to study English and Creative Writing at the University of Warwick, and now lives in Hampshire, (which she persists in calling the "wrong" end of the country), with her fiancé and a succession of dead houseplants. At weekends she can often be found dressing up and pretending to be other people, immersing herself in the lives of fictional historical characters—or as it is better known, "LARPing". She makes her own costumes and has a weakness for detective stories.