Not even Naomi's prophetic dreams prepare her for the mysterious wanderer who appears just in time to snatch her from danger—nor the upheaval he brings in his wake. No knight in shining armor, Reynolds once risked Naomi's life, and that dark secret again threatens it.
When Naomi discovers the world of magic and of what she is capable, not even Reynolds can slow the fate barreling down upon them both.
LEAGUE OF UTAH WRITERS' DIAMOND AWARD 

FOR OUTSTANDING NOVEL OF THE YEAR 2013
An excellent sequel that leaves you wanting more!
I read Conjecterix straight after Vivitara. I thoroughly enjoyed how each character continued to develop and grow throughout the story. The pace kept me moving through the story right up to the cliffhanger ending!
Amazon
 Five Stars!
LOVE this book. Can't wait until the 3rd!
Amazon
Fantastic Sequel!
Holy smokes people… The Conjectrix was a *fantastic* sequel to The Vivatera!!!
Amazon
THE AUTHOR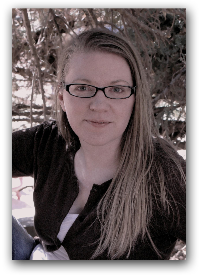 Candace J. Thomas started scripting parodies of plays at a young age and had dreams of becoming a playwright. This led to her studying theater and creative writing at the University of Utah. She is the winner of the Diamond Award for Novel of the Year for VIVATERA, published by Xchyler Publishing, April 2013. She has also been featured in the fantasy anthology MOMENTS IN MILLENNIA. She is very proud of CONJECTRIX and is excited to continue the Vivatera Series.
When not writing, Candie loves anything that expands her imagination, especially if it's nerdy or geek-worthy. Her lifelong goal is to one day have a convincing British accent. She lives in Salt Lake City, Utah, with her husband, two girls, and tailless cat.
AMAZON | WEBSITE | GOODREADS | FACEBOOK | TWITTER
OTHER WORKS BY CANDACE J. THOMAS