An ugly family secret laid bare, a mortal wound inflicted by her twin sister, betrayed by the love of her life—her supposed "soul mate". In the wake of the battle with her evil father and his Dark Seekers, Elora Walker fights to recover from them all.
Together with her Vanguard, Magicae, and Vampire friends, Elora races to gather ingredients for the spell of spells, bury the curse, and defeat the prophecy which has tainted her life since birth. To save the world, can she deny the yearnings of her heart? Or, will she succumb to the temptation of love, and plunge them all into Eternal Darkness.
An excellent sequel to Foretold!
After reading Foretold I didn't think it could get any better and I was proved wrong, the twists and turns in the book surprised me all the way.
Amazon
Gripping YA Paranormal Romance
Reflected by Joanne Kershaw is Gripping YA Paranormal Romance. The second book in the Vanguard Legacy continues the battle of darkness versus light. Kershaw draws the reader into a world filled with magic, vampires, and mysticism while touring the globe and juxtaposing goodness and evil. Friends, lovers and family vie for immortality in this intriguing narrative.
Amazon
I was crying the last two chapters of the book…. you have to read this!!
We pick up just after Book 1, and Elora and her friends have a lot of work to do!!!
Amazon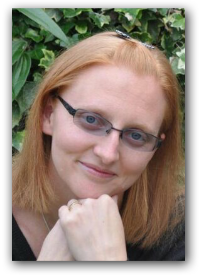 Joanne Kershaw lives in Wakefield, England, with her husband, four young children, and an uppity cat named Dipstick. As a teacher of five- to eleven-year-olds, she spends her days playing at being a grownup, then goes home to delve into Young Adult dark romance and being sixteen again.
Joanne lives and breathes books, whether reading, writing, or marking them. She wrote her first novel in six weeks. Encouraged to submit her work by a friend and fellow YA novel addict, Joanne now finds herself a signed author at Xchyler Publishing.