In this exciting continuation of the VIVATERA series, Naomi Everstar, rescued by living magic, must restore balance to a world stained by unnatural death. However, rejoining the six stones will destroy Naomi's sisters, daughters of King Prolius cursed by their father's "gift".
As her friends scatter across the country in search of the missing princesses and the amulets that possess them, Naomi hurtles headlong into a deadly trap set by an ancient evil.
Reynolds fulfills his duty to protect her, but his actions cause her to doubt whether he stays for love or only honor. Or, when damned souls demand her sacrifice, will Reynolds' guilt leave her to the mercy of the man who once plunged a blade into her heart?
An excellent sequel that leaves you wanting more!
I read Conjecterix straight after Vivitara. I thoroughly enjoyed how each character continued to develop and grow throughout the story. The pace kept me moving through the story right up to the cliffhanger ending!
Amazon
 Five Stars!
LOVE this book. Can't wait until the 3rd!
Amazon
Fantastic Sequel!
Holy smokes people… The Conjectrix was a *fantastic* sequel to The Vivatera!!!
Amazon
THE AUTHOR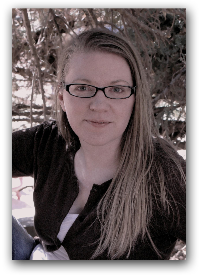 Candace J. Thomas started scripting parodies of plays at a young age and had dreams of becoming a playwright. This led to her studying theater and creative writing at the University of Utah. She is the winner of the Diamond Award for Novel of the Year for VIVATERA, published by Xchyler Publishing, April 2013. She has also been featured in the fantasy anthology MOMENTS IN MILLENNIA. She is very proud of CONJECTRIX and is excited to continue the Vivatera Series.
When not writing, Candie loves anything that expands her imagination, especially if it's nerdy or geek-worthy. Her lifelong goal is to one day have a convincing British accent. She lives in Salt Lake City, Utah, with her husband, two girls, and tailless cat.
OTHER WORKS BY CANDACE J. THOMAS